home | get KONG now | testimonials | how KONG works | f.a.q | KONG models | specials | KONG funnies | contact us | shipping info | $Webmasters$


Well as you have probably noticed, there was not a Friday Funny last week. We here at KONG are normally on the ball, getting the job done no matter what. Proving this one time before when our data lines were cut. But sometimes there is just nothing you can do. I'm speaking of hurricane Wilma; witch put a maximum spank down on South Florida on Oct 24th. Buildings were torn down, loaded tractor-trailers were flipped over, and trees were knocked down everywhere. Webmaster Tid claims to have had his favorite sequined thong underpants sucked away from under his shorts, while trying to start a generator at 5:30 am This was before it was safe to go out. (He says they made him feel pretty and wants them back)
Well one of these tractor-trailers was full of KONG. Kong was sucked up into the nasty storm and sprinkled all over south Florida. Its was like a skittles commercial, but rather than rainbow colored candy raining from the sky, Yes you guessed it KONG was falling from the heavens. Some of our customers insist that KONG comes from heaven anyway. It seems that the KONG worked its wonders on this already penis shaped state. We refer to this scientifically as "Kongtamination".
Below you can see pictures before and after of the effect. We are not sure if we are going to get in trouble with any Federal Agencies for this mishap.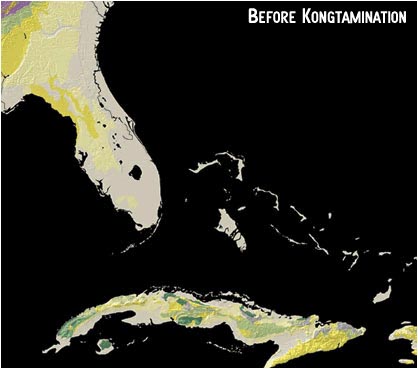 and then...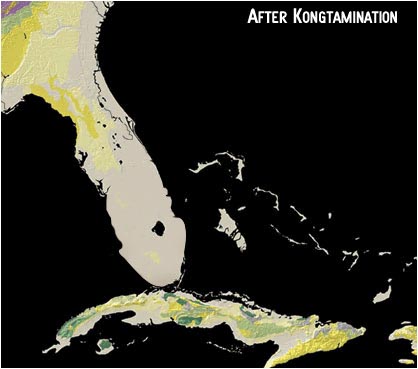 | | |
| --- | --- |
| | Webmaster Tid suggested projecting a gigantic photo of Rosie O'Donnell in a bikini on to the state from outer space. He says that he always experiences rapid shrinkage just thinking about her. Only problem is this could shrink the state back smaller that it was before. Don't worry we will think of something. |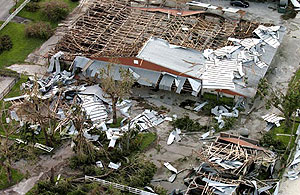 For more images from Hurrican Wilma click here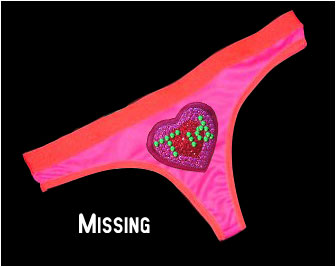 Also if anyone in South Florida finds these hanging from
a tree, or there car antena, Please send them back.

Check out the Hot Bods & Hot Rods Section

GET KONG!!!

Back to Funnies Page.

Back to KONG!