We know you like the Kong Funnies, Every Friday we experience a HUGE jump in traffic when we send out the New KONG Funny e-mail. Well today there was a problem getting the funny up, and here's the story on how we did it.
This morning when Webmaster Tid and "H" got to the KONG HQ, they were greeted by a bunch of battery back ups beeping and all the computers had automatically turned off. Other offices in the industrial park told us they had been without power all morning. Well the power came back on before 9 a.m. Now here's the part that sucks. The T1 data and the T1 voice never came back up. The equipment room had more red lights on than Amsterdam's... well....Red light district. Webmaster Tid normally does the Friday funny on Friday morning with no preparation, He calls it "Pulling the funny out of his ass". But Tid made the funny like normal hoping the data would come back soon. Well it was not back by 10 a.m. and he could not get the funny up to the servers. What we ended up doing is using an old laptop that was not network dependent and rigging it to the only land line in the building that did not run off the Voice T1 which was our back up alarm phone line. We finally got onto the servers using a AOL dialup connection and Taa Daa the funnies got up, and we remotely sent the e-mail blast out to all you KONG funny fans.
Well it was getting close to 2:30 p.m and still no data, so webmaster Tid and "H" went looking for the problem and below is what we found laying on the sidewalk. A truck came through and ripped the line down for the entire West Palm Beach, Fl Industrial Park.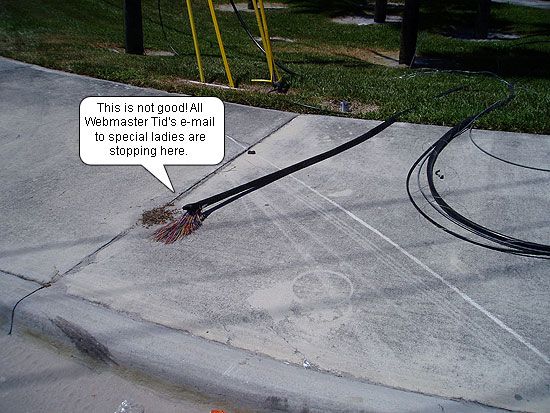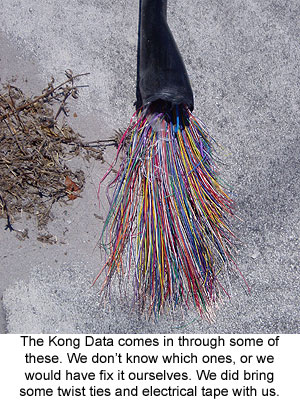 ---
Bellsouth finaly got on the scene with a crapload of trucks. Here is a rare photo of the elusive Webmaster Tid watching the BellSouth guys pour onto the scene. (the line has only been laying on the ground for 10.5 hours by
this time.) However, Bellsouth's finest assured us that with at least 35 men 8 repair trucks and 2 mobile climate controlled splicing labs ( see below ) and a hand full of specially trained seeing eye dogs, all would be running smoothly by monday.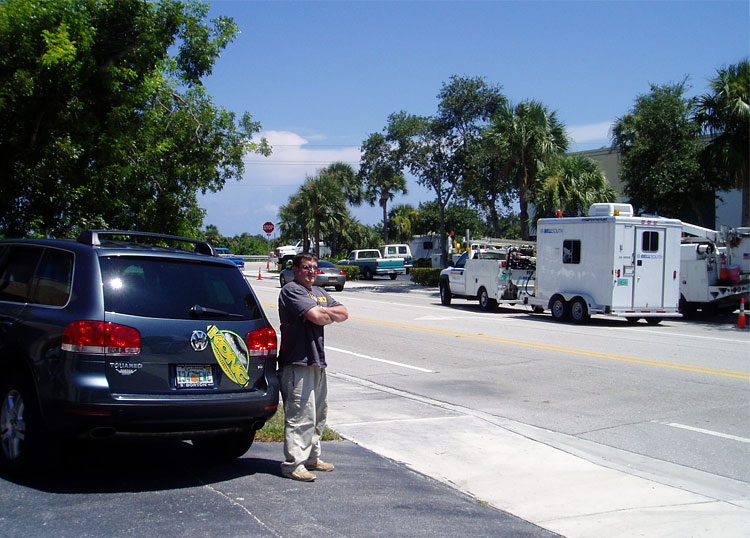 Here are the rest of the pictuers we took, as we had nothing to do with our data lines down and could not chat over AIM to any of our internet girlfriends in Yugoslavia or Lake Worth.

We are sorry internet ladies, so sorry!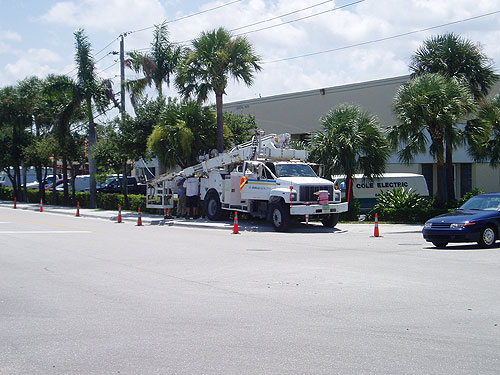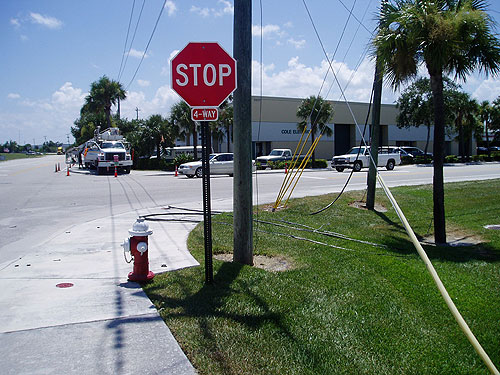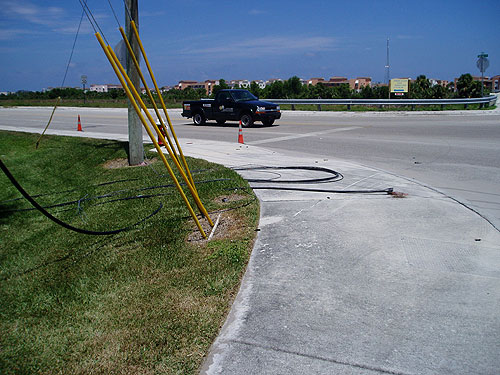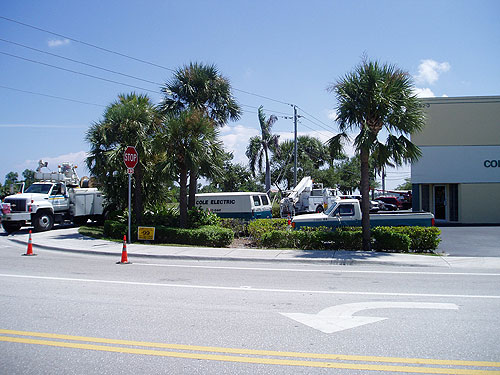 Well that's it. It is now 4:22 p.m and we still have no data, and are using the alarm phone line to put this stuff up!