home | get KONG now | testimonials | how KONG works | f.a.q | KONG models | specials | KONG funnies | contact us | shipping info | $Webmasters$




Forward:
Hi, this is Webmaster Tid. I get asked alot about the story of KONG. Where did it come from? Who thought of it? And the most common one. "Will you give me some for FREE"!? Well, I don't know the whole story of KONG but I will tell you the parts I know, and fill in the blanks with believable stuff.
Thanks for reading and Keep it up with KONG!
| | |
| --- | --- |
| | Even as a youth, Kong's inventor was searching for the ultimate herbal formula. He did nothing else. Here is a photo of Little "H" when he first thought of what would later be know as KONG. |
| | |
| --- | --- |
| | A few years later Teenage "H" gave some of the prototype supplement (later to become KONG) to a male mouse named "Jumpy". Something fantastic happened to him in just a few short weeks. Here is a censored photo of Jumpy just one month after receiving the prototype supplement. |
| | |
| --- | --- |
| | After Jumpy took the supplement for 6 weeks, he had impregnated all the other mice in the state. He just could not get enough (and you know thats alot 'cause mice bang all the time anyway). One tragic night Jumpy assaulted Teenage "H"'s cat Spoogie. Spoogie even got impregnated. Here is a photo of Spoogie during the attack. Poor Spoogie :( |
| | |
| --- | --- |
| | Well, years passed and now Adult "H" realized what his prototype formula did to Jumpy. "H" decides to modify and tone down his formula, he also has a staff of top scientist working with him now. All the best herbs are inspected for potency, quality and ultimate efficacy. Here is a photo of Melanie taking down important penis enlargement info........ (She loves her job almost as much as Webmaster Tid) |
| | |
| --- | --- |
| | The Formula is perfected and Adult "H" conveniently wins a factory from a Mob Boss Named "KONG" during a game of poker. This could not have come at a better time. Adult "H" knew this must be a sign from above. He names the Formula KONG. He knows he must mass produce his wonderful formula and offer it at a fair price to all the people of the world. |
| | |
| --- | --- |
| | Adult "H" quickly calls Cathy Lee and found out where to get an immigrant child work force that would work for a nickel a day. They worked very reasonable 14 hour days, 7 days a week for 3 months straight and "Taa Daa!"... KONG hits the market. Now "H", makes his shrewdest move and hires the sexiest , toughest, smartest and drunkest webmaster in the world to build all the KONG websites. (The webmaster is also paid a nickel a day and also works extremely reasonable 17 hour days using a Speak N Spell stolen from the flea market as his computer) |
Well that's it. That's the story of how KONG came to be. Since I don't know the entire real story, I filled in the blanks. But even though the Kong plant was not won in a poker game and we don't employ little kids and Melanie actually thinks Webmaster Tid is an asshole and wont go out with him for a "soda", we are still a force to be reckoned with in the world of male enhancement.

Hope you enjoyed the story of "How KONG Came To Be".
Web Master Tid

Maybe one day I will tell the story of Kong Black VooDoo. It's a Dandy one!


For answers to more KONG questions check out
www.everydayallthetime.com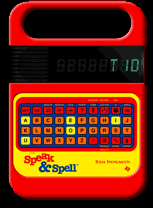 Check out the Hot Bods & Hot Rods Section

GET KONG!!!

Back to Funnies Page.

Back to KONG!
Tell a Friend about the KONG Funnies Click Here!